Update Your Mother's Wedding Gown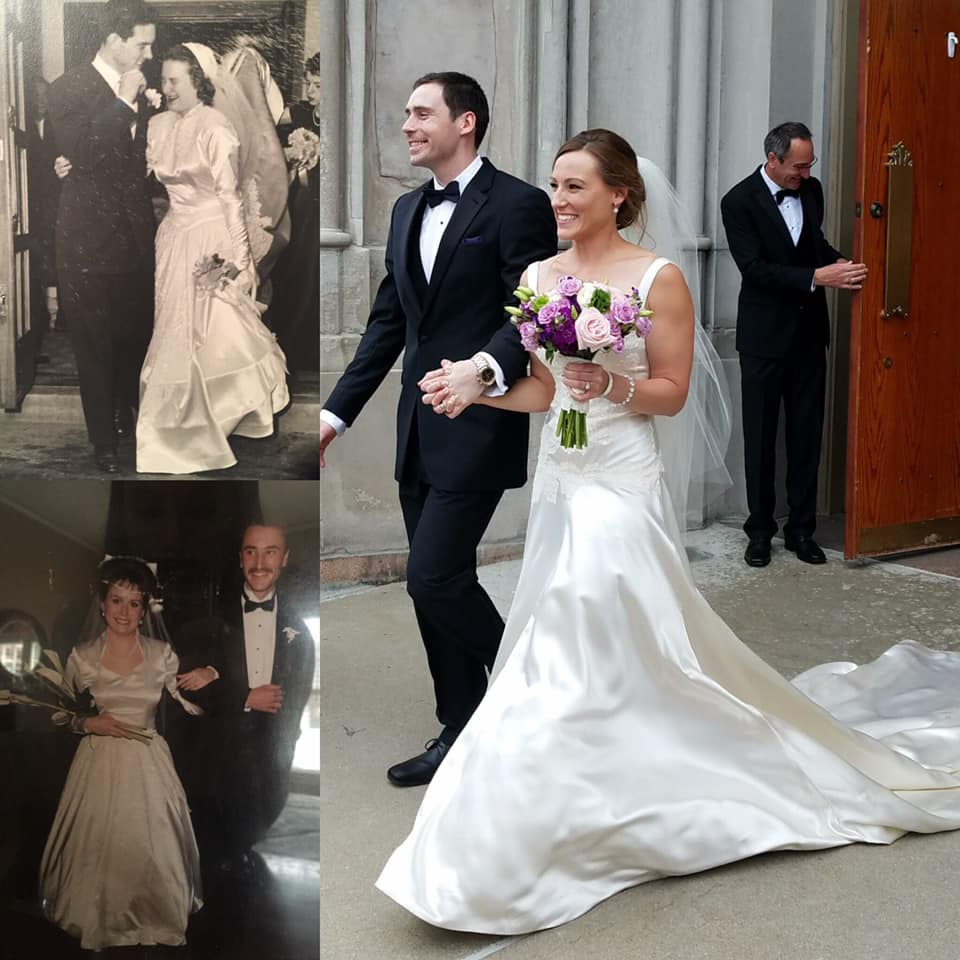 Above Right, Taylor's Remade Heirloom Gown, and the two generations before her!
One of our specialties is Re-Creating heirloom wedding gowns.  This is a truly special opportunity to honor your lineage and dear departed grandmothers.  There is sacred history in these stitches, and working with them is our greatest honor!

We've worked with these special gowns for 14 years, and in that time re-created hundreds of heirloom gowns, even some from the 1800's!
Below is our recent transformation of a bride's mother's gown:
Have a Special Dress?

1.  Get it Out-  Have fun trying it on, and keep in mind that if it doesn't fit, that's okay… We will still be able to work with it!  Unbox it so it can hang (contact us for a bridal gown bag if needed!).  Don't worry about cleaning it just yet, we can do that here.

2.  Schedule A Consultation-  During this meeting we'll talk about your tastes, your gown vision, and discuss the possibilities.
We'll present you with options to rework your gown, pin alterations, and sketch custom options.
Stained Dress? We offer heirloom gown restoring, using a hand-cleaning process, here: https://www.simply-preserved.com/products/heirloom-wedding-gown-restoration-kc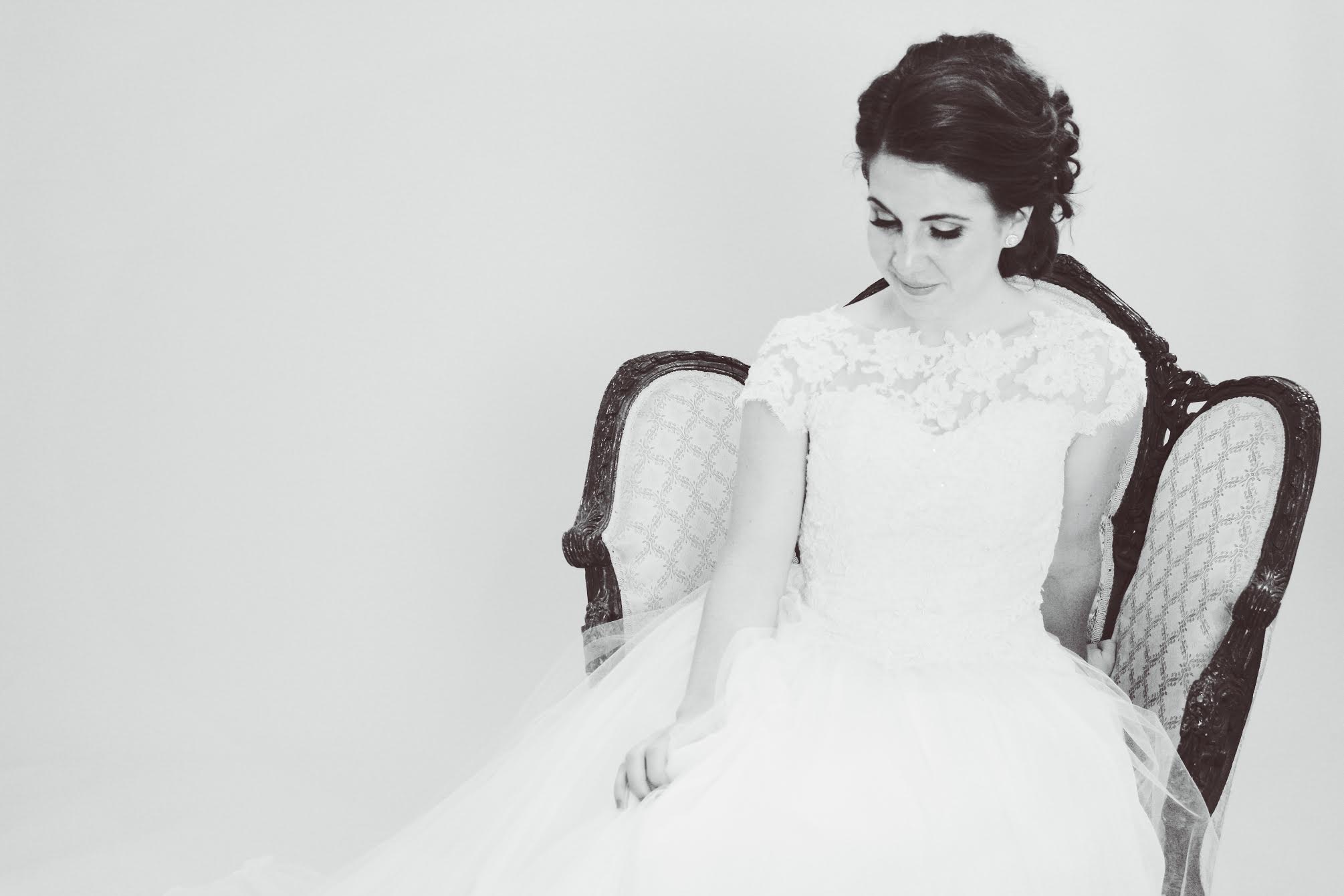 We'll collaborate to determine the best solutions for you and price the changes.  Alterations and design changes pricing depends on your individual gown's construction and the alterations needed, and can range from $250 (fit and style tweaks) to $1,500 (fully customized heirloom gown restoration, adding in new layers or a new bodice).

3.  We get to work- We'll sew your dress with love and take good care of it, always storing it in a bridal bag.  We'll also be sure to save every little bit of your special dress!

4. Fittings- You'll have several fittings where we will sculpt the gown around you, and collaborate until it's wedding-ready!

5. Wear it, you beautifully vintage clad bride!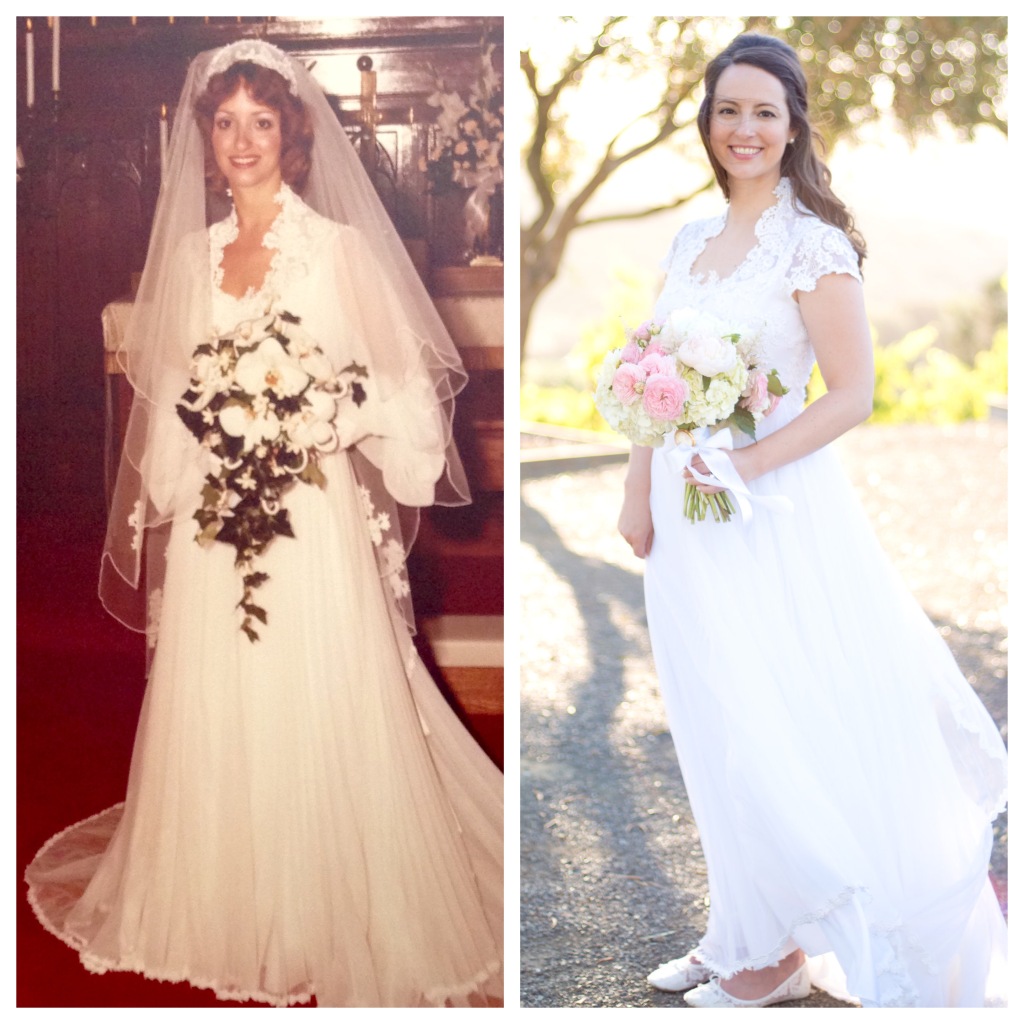 Lauren's mother's gown, before and after More here.
IDEAS TO MODERNIZE:
Creative Ideas to Transform your Gown:

Remove Sleeves- This can instantly lighten up a dated look, and generally do this during the first meeting.
Change the Neckline– Consider making the neckline in front lower, or opening up the back into a V, Keyhole, or scoop back.
Change the Waist- Adding a beaded belt to the natural waist will accentuate the smallest part of your figure, we can also remove or obscure V-waists!

Poof-  Remove netting from under the dress for narrower silhouette.  Or, add hidden colored tulle under the gown for fun!
Add Lace- Lace is an great addition to add depth and romance, and can be layered to hide stains and even incorporate many generations of materials into your special dress.

But… it doesn't fit (yet)!
If a gown is too tight on you, there are many options!

We can make you a Custom Gown bodice to combine with your heirloom one, or add side panels to extend the fit.
Also, lowering the back and bustline often allows for more room!
If your Gown is too short, we can add layers or lace to the hem, or drop the waist and add a panel to the waistline to lengthen.

Vintage Veils can also be altered, and scraps from your dress, veil, or other heirloom fabric are always saved. 
We can use them create hair-flowers (like the one shown here), handkerchiefs, or other special details!

Save
Save
Save
Save
Save
Save
Save
Save
Save
Save
Save
Save
Save