Let's unpack what may come up for a REAL BRIDE in Alterations
Keeping it REAL through the process of planing a wedding is your goal as a Bride… especially with the hype of celebrity weddings, Pinterest, and family pressure. Between all that, it can be hard to discern what is really accessible.
It might seem like a magic wand is waived and Poof! Your wedding dress fit dreams are accomplished! Actuality, it's a process- and we'll be working together for several months to arrive at that place.
I aspire to walk you through the wedding gown transformation process with ease, lady-to-lady. I know it may be a challenge to accept that the gown of your dreams may come with some fit and comfort limitations, and we'll walk you through those.

***We ARE Magic dress transformation experts, yet there are certain realities for you, dear Bride, to come to terms with***
Sizing: We adore brides of all shapes and sizes, and can help with the special alterations that are needed for plus-sized and petite figures. We maintain a body-positive space, and we will support you to reflect kindly on yourself throughout the process.
We will pin your size adjustments at the first meeting, and may meet one additional time before beginning the alterations to confirm your sizing.

If possible, stabilize your size 4-6 months before your wedding date as is healthy for you.
We may recommend certain shapewear to help smooth some lines, but totally get if that's not your thing and honor your decision!
We have worked with brides through last minute size changes, but try to avoid fittings close to wedding dates for those special cases. We strongly encourage all brides to secure their position in our limited alterations specialist queue as early as possible.
Every… Single…Gown will have fabric bends/lines/wrinkles at least in the midsection, where the inner structure ends. This is completely normal… And…breathe…

There are some fabrics that show these lines more (like satin) than a textured gown (like lace). We often obscure these lines with adding lace or belts to the mid-section.
Most gowns can be pulled down from the hem when standing VERY straight (poise for the win!!!), but the moment you move or bend at the waist lines will appear across your gown. Everyone dress has this, and if you see photos of a dress without bends they are either a) not moving or b) erased through editing.

*TIP If your gown is prone to wrinkling* Assign a friend as "dress helper" to gently tug at your gown layers at the hem for photos!
Every strapless gown will have skin folds between the armhole and bust. Strapless gowns must be more fitted than those with straps.
If you tried on a gown that was too big in the gown store, when it's fitted for you the cut will differ from the store sample gown in this area.
If you've already invested in a strapless gown and are concerned about this area, we can add custom straps (with lace matching your dress or sheer fabric), or consider adding a sheer or lace gown topper.
We love making gowns unique and offering solutions to make you more comfortable. If you have a strapless gown, make peace with this area of your body OR we can help you cover it up 🙂
Mermaid & Tight Fitting Gowns:
Designs with a fitted silhouette through the legs will have lines (like wrinkles) throughout the legs as you exist as a human. Some fabrics show lines more, while lace and textures generally obscure them.

If you want your gown tight, know that the designer image you may be basing your fantasy off of most likely was manipulated by being clipped at the back of the knee… or photo-shopped. That super tight mermaid fit is not achievable without potentially ripping your gown by walking (and just forget sitting). Pinterest is rife with these far-flung silhouettes that are unrealistic, so please be aware and prime your expectations to reality.
Some fitted gowns are being made in stretch fabrics, which allow much more range of motion and comfort. Structured dresses can present challenges that we can talk through with your unique gown.

TIP: Sitting in tight dresses: ELEVATE! I recommend brides with very fitted dresses to arrange lifted seats for the reception (think Throne, ladies!). A stool would be ideal, or cover a 3-5″ piece of foam with pretty fabric.

BOOBS!!! Oh-my-goddess! Not only are they shaped, sized, and set completely uniquely, but preference of how you want your unique set to look on your wedding day varies wildly.
Some brides wish to minimize (for this we can build-up necklines with additional lace, add a sheer topper, etc), and others want to lower necklines and show them off (we can do that, too!). Whatever your preference, we will work to make sure you are comfortable.
We add in bra cups to many dresses, and stock both padded and non-padded varieties. We can also add covered underwire to bra cups for lift.
To some brides we may recommend an adhesive style bra (like either of these On Amazon.)
Body Tape: MOST brides end up taping their gown, especially sheer lace scallops and sculpting low-back around shoulder blades. I recommend special tape and can give you a few pieces during your alterations process, and Here it is on Amazon.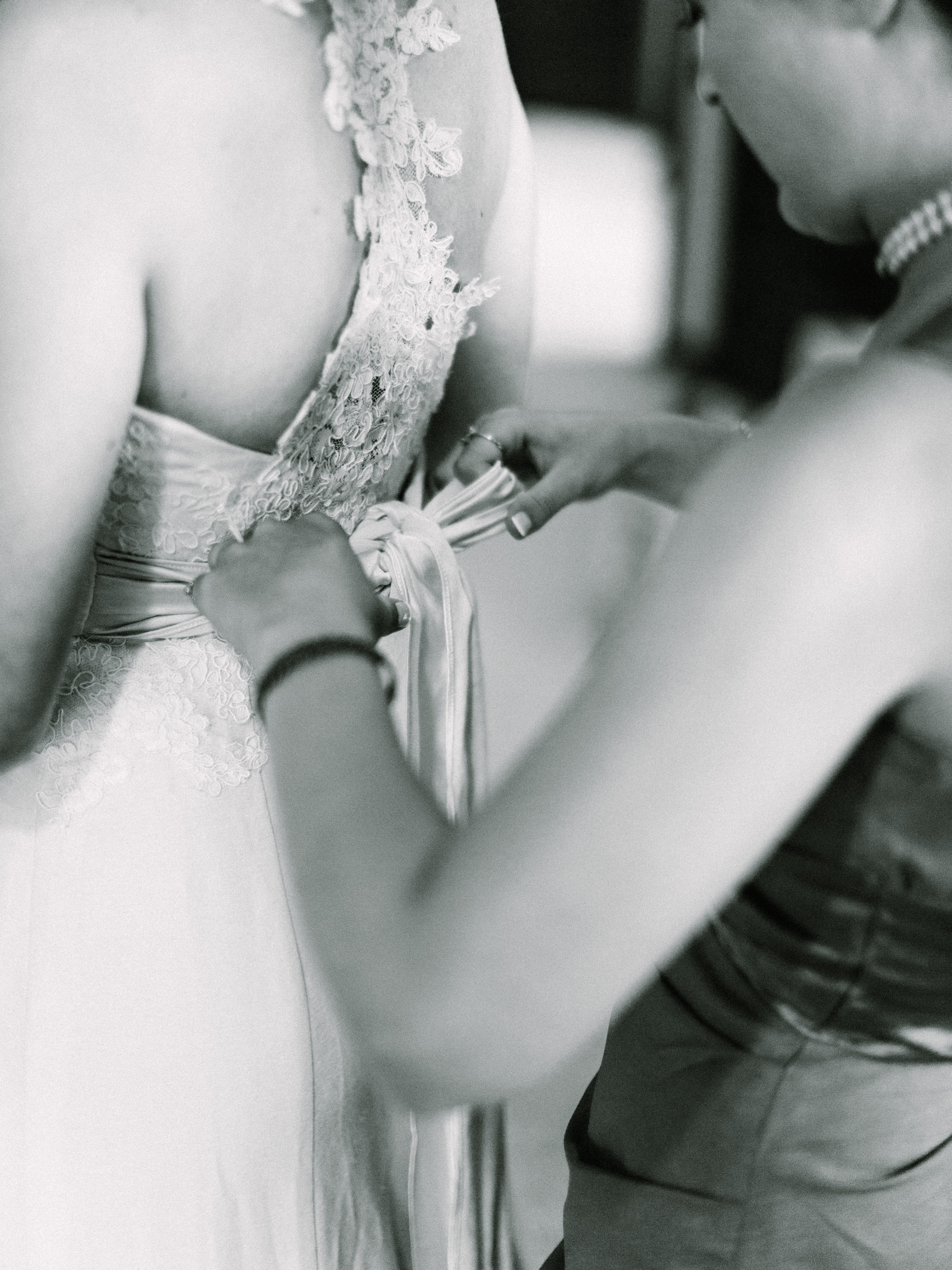 Bustles: We'll walk you through the options for your unique dress at your alterations consultation, the best way to explore your bustle options is to pin them on your actual dress.
Certain styles (like French Bustles (which fold under and create a low bubble effect) are generally stronger than American Bustles (which go up). The weight of your fabrics in the train is more supported on more points than less.
Off-Shoulder, lace, and illusion sleeve gowns that are fitted (and not in totally stretchy fabric) WILL LIMIT YOUR RANGE OF MOTION. This means there will be no lifting up of your arms in styled like this, once properly fitted, without compromising your delicate fabric. The Y of the YMCA will not be accessible to you.
There are alterations hacks we can do to help with range of motion, like adding in a stretchy panel of fabric under the armpit, or a thin elastic strip on the top edge of the sleeve.
TIP: If you have a gown like this, it's a good idea to plan a dance with your beloved in which you can be twirled without lifting your arms above your head (a dance instructor can help you plan for this)!
Alterations quotes are given at a first meeting, due to the unique nature of each dress and the best fit solutions that we decide upon together.
We will itemize out your alterations and agree upon the solutions to your gown and full pricing before beginning any work.
We work with high-end gowns and special-fits… If you want the BEST, come to us.
Learn More about the fitting process and Pricing Here
We LOVE co-creating fit solutions for your special dress, and are willing to talk through options to arrive at the best combination of alterations at a consultation.

We have lots of passion for serving you, dear bride, thank you for considering to work with us!
Let me know if you have questions about your specific gown, and we will talk through the process!
~Warmly, Janay A
Save
Save
Save
Save
Save
Save
Save
Save
Save
Save
Save
Save
Save
Save
Save
Save
Save
Save
Save
Save
Save