"KC's Hippest Alteration-istas!
No frumpy-fits or grandma-esque styling here!
"My wedding dress was the most important thing to me… I wanted to really make it my own and incorporate my mom's lace from her wedding dress. It turned out exactly the way I wanted it to."
"HEY, Pretty! Let's collaborate in making your gown AWESOME!"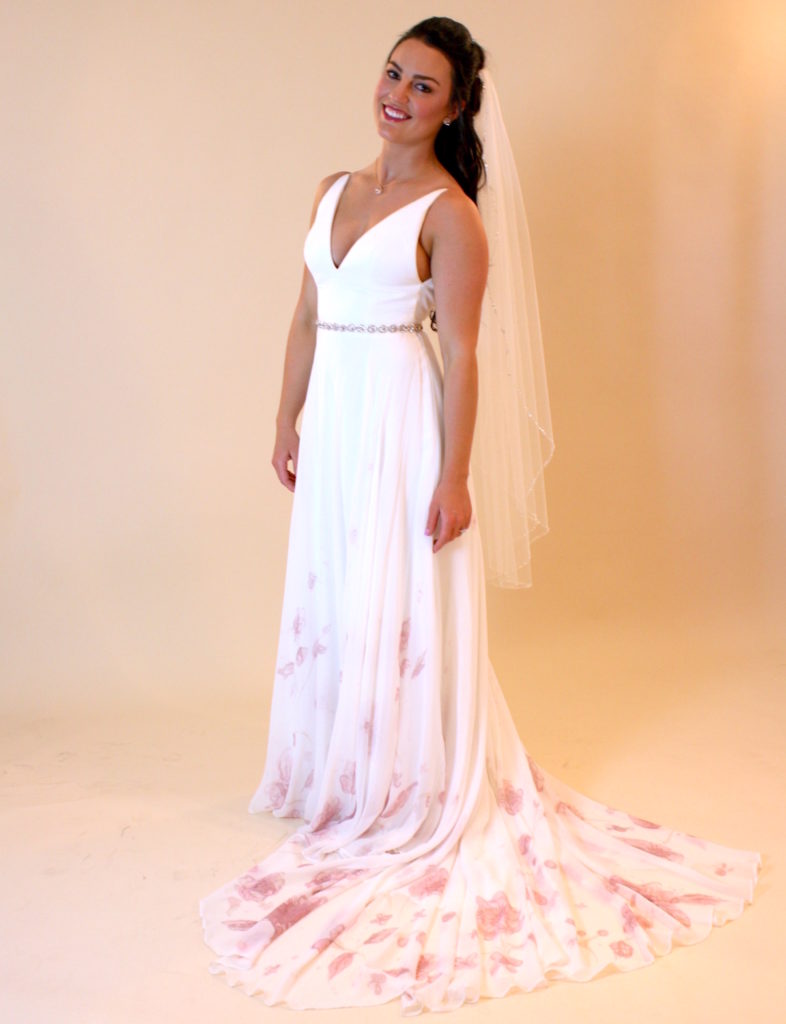 What do we alter?
We primarily work with Wedding Gowns, and when time allows also take on Mother of the Bride Dresses, Flowergirls, & Bridesmaids
We especially love creative projects, where we can make your gown more perfectly "you"
Ideas we love:
Lowering a back, making a straight-across neckline a sweetheart, adding lace straps or scalloped edging, adding a detailed belt, adding colored tulle under your dress… we could go on!
So many fun possibilities, let's brew up the best ways to take your gown from Off-The Rack to Unique!
We stock a variety of beautiful belting options, from clean satin to fun textures, pearls, crystals, as well as fun hairpieces, veils, and jewelry.
Re-working antique and heirloom gowns is a special passion of ours, here is more info on that process specifically.
What's the process?
At your first fitting we pin all the alterations on your gown and talk through the best solutions.
Typically brides leave their gowns in our care after their first fitting so we can begin work immediately. We'll itemize out all of the costs (more on this below), and require a deposit of half before beginning your alterations, with the remainder due at pickup.
Turn-around times are based on season and availability, generally we like as much time to complete your alterations as possible, with timing depending on the season, your wedding date, and the amount of work needed on your dress.

Next, we'll sew everything that was pinned and have you try it on again at your second fitting.
Often your dress is perfect and ready to take home, but sometimes we need to do a few more tweaks and have you try it on again at a 3rd/ final gown fitting.
Remember, we are sewing the dress to your size at the first fitting, so if you are still changing in size it's best to wait until closer to the wedding date to be steady before beginning.
For holding space for your alterations to be done, please contact us to make arrangements as far in advance as possible.
What does it cost?
Since wedding gown design, construction, and fabric can be so different, we price alterations on a individual basis.
We require an in-person fitting before giving alterations quotes, and will go over all charges with you before beginning the work.
Most wedding gown alterations range from $150-$600. Our minimum per gown is $100.

Typical Wedding Gown sides in are $150+ and $150+ hems (+ for beading, lace, and more layers- lace can be $250+), straps $30+, Bra Cups $20-$30, and Bustles are typically $10-$15 for each "pull up" (3-5 works for most gowns, more for long/ wide trains sometimes require 7+)

We'd love to work with you, Let's get started!
Use the pop-up contact tool to your right to schedule your alterations appointment.
What to bring to your fitting:
You'll need the shoes you plan on wearing (or a heel of the exact same height) and your bridal undergarments.

We have sew-in bra cups that we can try in your dress, but if you are planning on wearing any shape-wear (like spanx or a bra) you'll have to have that on when we fit you to get the best final result.

We're trusted by some of Kansas City's most popular trendy wedding gown boutiques for alterations- including The Gown Gallery, Something White Bridal Boutique, and The Lace Loft.

We look forward to meeting you (and your pretty dress) and making you perfectly matched for each other!
Save
Save
Save
Save
Save
Save
Save
Save
Save
Save
Save
Save
Save
Save
Save
Save